What Is the Outlook for the Industrial Cold Storage Market?
The global Cold Storage market size was valued at USD 119.98 billion in 2021 and is expected to expand at a compound annual growth rate (CAGR) of 13.4% from 2022 to 2030. Increasingly stringent regulations governing the production and supply of temperature-sensitive products has significantly benefitted the market by creating additiobal demand. Organized retail sector growth in the emerging economies has positioned the industry to grow over the forecast period at an unprecedented rate. Moreover, rising automation in refrigerated warehouses is projected to boost the demand even further.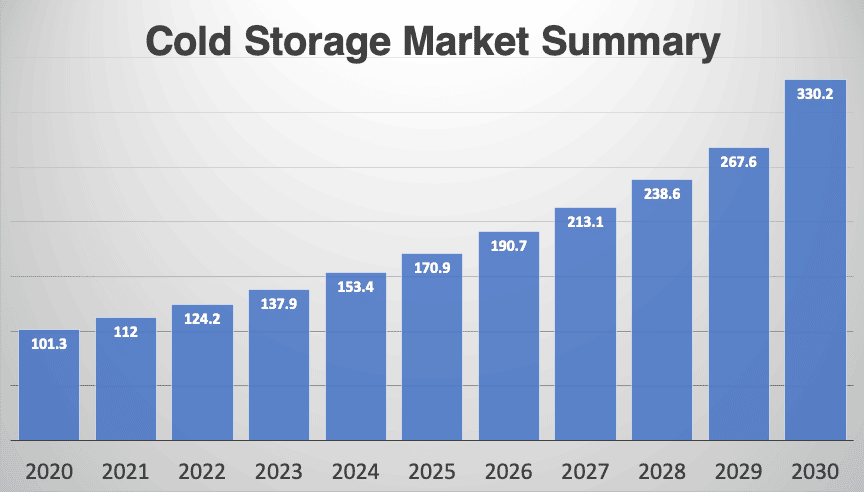 Adding to all of this, the forecasted rise in perishable product trade is anticipated to help boost refrigerated storage solution demand over the next few years. With refrigerated warehouse space currently at a premium in many markets, and the demand for Cold Storage warehousing increasing annually, construction of new facilities is picking up steam across the country.
Whereas the temperature-controlled warehouse industry may have started out as unsophisticated, family-owned businesses, as of 2019, the U.S. cold storage industry is highly consolidated and dominated by only a relatively few players owning the preponderance of the cold storage market share. The industry's four market-leading companies include Americold Logistics LLC (Americold), Lineage Logistics Holdings LLC (Lineage), Preferred Freezer Services LLC (Preferred) and US Cold Storage. In total, the industry's four largest enterprises generate more than 40.0% of total industry revenue each year with Americold accounting for 20% alone. Temperature-controlled warehouse operators mainly store goods, but also offer additional value-added services to boost their revenue, such as handling, transportation, consulting and packaging.
Overall, although the industry has seen consistent entry of new players, this has been offset by acquisitions and consolidation on the part of the industry's leading companies. The industry's leading companies have each been able to out-pace the industry's rate of growth over the past five years through consolidating and expanding their respective market shares. Of significant note, Americold became the first major company to complete a public offering in 2018. This action is anticipated to stimulate a increased level of capacity and technology investment over the coming years.
With Cold Storage warehouse space in the US jammed to capacity from coast to coast, the pace of temperature-controlled industrial warehouse acquisitions, expansions and new facilities is forecast to accelerate in 2022. Current estimates show that demand for Cold Storage space will rise by 100 million square feet during the next five years, amounting to an increase of roughly 47% over the current level of 214 million square feet.
Related Industrial Refrigeration Resources: